PARA NUEVOS USUARIOS
✓

Use this code to get 1% bonus (max $10 extra) for your first trade!

GETBONUS
✓

¿Cómo usarlo?

Escriba el código en la página principal antes de realizar la operación en el formulario debajo del botón de Comercio (visible solo para usuarios nuevos) y haga clic en "SOLICITAR":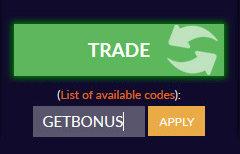 Si el código funciona, verá información de que la bonificación está habilitada.
1% will be added instantly to your user sum - it will be displayed after user sum.
Recuerda:
- el código funciona solo con tu primer intercambio
- el tamaño de letra no importa