POUR LES NOUVEAUX UTILISATEURS
✓

Use this code to get 1% bonus (max $1) for your first trade!

GETBONUS
✓

Comment l'utiliser?

Tapez le code sur la page principale avant le premier échange dans le formulaire ci-dessous le bouton Trade (visible uniquement pour les nouveaux utilisateurs) et cliquez sur "APPLY":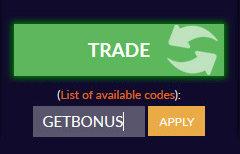 Si le code fonctionne, vous verrez que le bonus est activé.
1% will be added instantly to your user sum - it will be displayed after user sum.
Rappelles toi:
- le code ne fonctionne qu'avec votre premier commerce
- la taille de la lettre n'a pas d'importance