Für neue Benutzer
✓

Use this code to get 1% bonus (max $10 extra) for your first trade!

GETBONUS
✓

Wie man es benutzt?

Geben Sie den Code auf der Hauptseite ein, bevor Sie das erste Formular unter der Schaltfläche "Handel" (nur für neue Benutzer sichtbar) und klicken Sie auf "Übernehmen":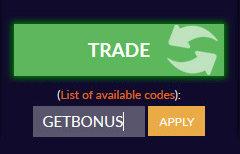 Wenn Code funktioniert, werden Informationen angezeigt, dass der Bonus aktiviert ist.
1% will be added instantly to your user sum - it will be displayed after user sum.
Merken:
- Der Code funktioniert nur mit Ihrem ersten Trade
- Buchstabengröße spielt keine Rolle